Had ik al gezegd dat je op zoek moet naar de beste citroenen…
Als je iets zelf maakt en je proeft het de eerste keer en je schiet als het ware in de lach, dan weet je dat het goed zit. Zo ging het ook met deze limoncello. We namen een voorzichtig slokje, keken elkaar aan en begonnen te giechelen. Echt waar, zo lekker! Het maken is kinderlijk eenvoudig, maar geloof me, het resultaat valt of staat echt met goede citroenen met mooie schil om diepgang in het drankje te krijgen in plaats van iets dat alleen zoetzuur is.
Ik ben dol op citroenen en heb ze altijd in huis. Maar ik ben wel een kieskeurige citroenkoper. Niet van die saaie zure die je in de meeste supermarkten tegenkomt, maar echt geurige citroenige citroenen. Je ruikt het al aan de schil als je er overheen wrijft. Sinds ik de zelfgemaakte limoncello heb ontdekt ben ik niet meer te houden. De eerste batch was een dusdanig succes dat ik meteen een volgende heb opgestart en ook op zoek ben gegaan naar een gegarandeerd goede leverancier van verse citroenen. Er bestaan vast meer authentieke manieren om limoncello te maken, maar deze snelle huis-tuin en keukenmethode is wat mij betreft een fantastisch begin en voor iedereen te doen.
De afgelopen periode waren dat citroenen die worden aangeduid als 'primo fiore' (eerste bloei, bloemen). Ze komen uit Sicilië en zijn er ongeveer van oktober tot maart. In andere periodes van het jaar heb je weer andere variëteiten. Naast Sicilië heeft het zuiden van Italië ook een fantastische citroencultuur. Als je de Amalfi kust bezoekt met plaatsen als Sorrento en Positano dan kun je maar beter net als ik heel erg van citroenen houden, want ze zijn overal! geweldige plek overigens voor verliefde mensen…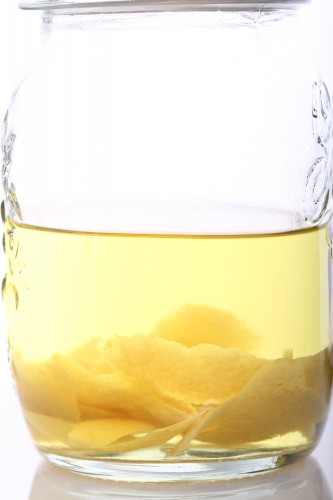 Ingrediënten voor de Limoncello
Schil van 4 biologische citroenen zonder was laag
0.5 liter wodka
400 gram suiker
400 ml water
Zo maak je de Limoncello
Steriliseer een pot of fles in kokend water of door deze 10 minuten in een oven van 125°C te leggen. Haal met een dunschiller reepjes schil van de citroenen. Doe de schillen in de pot en giet de wodka er bovenop. Nu moet je even geduld hebben want we gaan 20 dagen wachten tot we door kunnen met de volgende fase. Plak een etiket op de pot zodat je weet wanneer je weer verder mag. Gedurende de twintig dagen moet je wel de pot af en toe draaien en/of schudden. Het is ook leuk om te zien hoe de etherische oliën zich mengen met de wodka en hoe deze langzaam steeds dieper geel kleurt.
Op dag 21 maak je van het water met de suiker een dunne suikerstroop. Laat de suiker op matig vuur oplossen in het water, breng aan de kook, laat een paar minuten borrelen en laat dan volledig afkoelen. Doe de suikerstroop bij het wodka-citroenmengsel. Roer goed en schenk door een fijn zeef of filter. Doe de limoncello in een mooie fles en bewaar in de koelkast. Drink ijskoud. Dat gaat nog beter als je de limoncello voor het serveren even een half uurtje in de vriezer zet.